From the Director
We employ systems-focused approaches to decipher the complex cellular processes underlying heart failure development with the aim of defining novel therapeutic strategies. Inputs from developmental biology and aging processes are exploited to identify novel drug targets in cardiomyocytes, non-myocytes, and the extracellular stroma to protect and regenerate the heart. A key challenge is to define primary and secondary processes in heart failure pathology for optimal design of therapeutic strategies.
The majority of patients with heart failure present severe structural and functional cardiac impairments with limited responsiveness to classical pharmacological treatment. These patients may benefit from reconstruction of functional myocardium using stem cell-based tissue engineering. The Department of Pharmacology and Toxicology employs state-of-the-art concepts from pharmacology and biomedical engineering to establish proof-of-concept and translate individualized tissue engineered heart repair.
Tissue engineering enables us to build three-dimensional culture systems with organotypic structure and function. Additional development of different organ surrogates to simulate disease processes and develop novel therapeutics for organ protection and regeneration is ongoing at the Department of Pharmacology and Toxicology. The availability of stem cells from individual patients creates the opportunity to devise novel pharmacological, gene-based, and cell-based approaches for individualized treatments in patients with heart failure, skeletal muscle disease, and neurological disorders.
In addition to our activities in research and education of students in medicine and natural sciences we offer professional consultant services pertaining to drug therapy.
Prof. Dr. med. Wolfram-Hubertus Zimmermann
Recent Publications
Torkzadeh T, Asadi Z, Jafari Atrabi M, Eivazkhani F, Khodadi M, Hajiaghalou S, Akbarinejad V, Fathi R. Optimisation of hormonal treatment to improve follicular development in one-day-old mice ovaries cultured under in vitro condition. Reprod Fertil Dev. 2023 Nov;35(18):733-749. doi: 10.1071/RD23027 . PMID: 37995332.
Sounart H, Lázár E, Masarapu Y, Wu J, Várkonyi T, Glasz T, Kiss A, Borgström E, Hill A, Rezene S, Gupta S, Jurek A, Niesnerová A, Druid H, Bergmann O, Giacomello S. Dual spatially resolved transcriptomics for human host-pathogen colocalization studies in FFPE tissue sections. Genome Biol. 2023 Oct 19;24(1):237. doi: 10.1186/s13059-023-03080-y . PMID: 37858234; PMCID: PMC10588020.
Roeder SS, Bonnin EA, Wu TD, Guerquin-Kern JL, Jabari S, Brandner S, Eyüpoglu IY, Gollwitzer S, Hamer HM, Gerner ST, Döppner TR, Rummel C, Englund E, Heimke-Brinck R, Borst T, Daniel C, Amann K, Schlötzer-Schrehardt U, Tonchev AB, Roessler K, Schwab S, Bergmann O, Rizzoli SO, Huttner HB. Tracking cell turnover in human brain using 15N-thymidine imaging mass spectrometry. Front Neurosci. 2023 Oct 5;17:1274607. doi: 10.3389/fnins.2023.1274607. PMID: 37869505; PMCID: PMC10585107.
"Heart patch" made from stem cells to repair heart muscle in heart failure
Video in German
The BioVAT-HF-DZHK20 study is investigating the use of heart muscle tissue from stem cells in patients with severe heart failure. The incorporation of laboratory-grown heart muscle tissue is intended to improve the pumping function of diseased hearts in the long term. The multicenter clinical trial is treating patients with severe cardiac insufficiency in Göttingen (UMG) and Lübeck (UKSH). The completion of the dose-finding part of BioVAT-HF is indicating that EHM are well tolerated at all tested doses.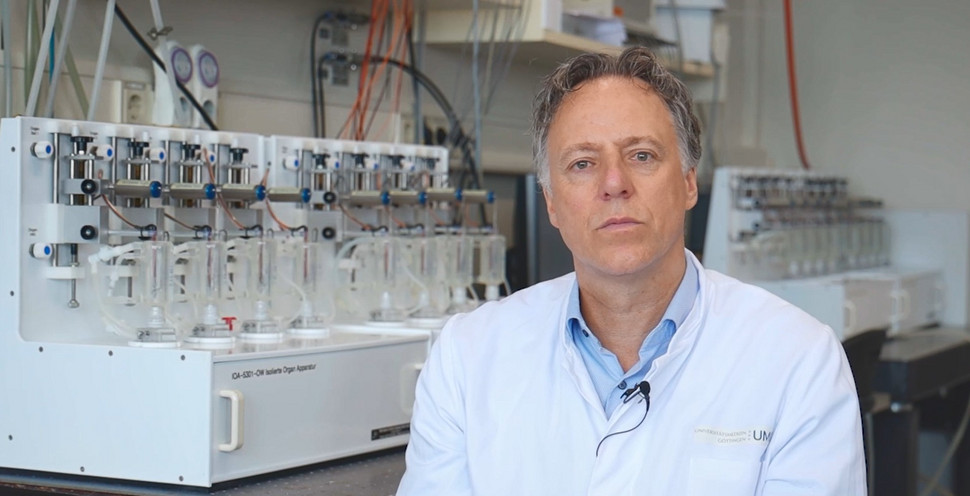 ---
---