News & Events
Department of Pharmacology and Toxicology
Preclinical testing of gene therapies: researchers from Göttingen produce human skeletal muscles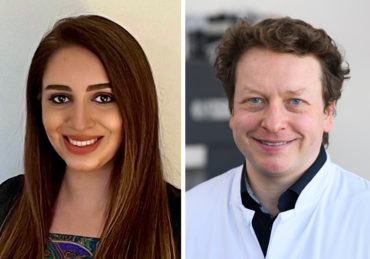 Diseases of the skeletal muscles often lead to muscle weakness and, due to decreasing mobility, to severe limitations in the quality of life. Duchenne muscular dystrophy has a particularly severe course. The muscle weakness already appears in childhood and progresses rapidly. Patients become wheelchair dependent, have breathing problems and severely reduced life span. Current therapies can mitigate the progression, but do not provide a cure. Using cardiac and skeletal muscle models developed from stem cells at UMG's Institute of Pharmacology and Toxicology, researchers hope to develop precision therapeutics for the treatment of severe muscle diseases.
In a recently published paper, the authors report on how they produce skeletal muscle in the laboratory that can be used to simulate normal human muscle development, natural processes for muscle recovery (muscle regeneration), and disease processes of muscle disease.
VIDEO | Durchbruch in der Gentherapie: Forscher aus Göttingen stellen menschliche Skelettmuskeln her - SAT.1 REGIONAL (sat1regional.de) (21.02.2023,17:30, SAT.1 REGIONAL)
Link to the UMG Press release: https://www.umg.eu/news-detail/news-detail/detail/news/muskelerkrankungen-besser-erforschen-und-behandeln/
Original Publication: Shahriyari M, Islam MR, Sakib SM, Rinn M, Rika A, Krüger D, Kaurani L, Gisa V, Winterhoff M, Anandakumar H, Shomroni O, Schmidt M, Salinas G, Unger A, Linke WA, Zschüntzsch J, Schmidt J, Bassel-Duby R, Olson EN, Fischer A, Zimmermann WH, Tiburcy M. Engineered skeletal muscle recapitulates human muscle development, regeneration and dystrophy. J Cachexia Sarcopenia Muscle. 2022 Oct 18. doi: 10.1002/jcsm.13094. Epub ahead of print. PMID: 36254806.
Contact:
Dr. Malte Tiburcy
Department of Pharmacology and Toxicology
Tel. 0551/ 39-20729
Robert-Koch-Straße 40, 37075 Göttingen
m.tiburcy(at)med.uni-goettingen.de